Happy Sunday bookish people! And a Merry Bookmas day 5! Today I am bringing you some recipes for luxury hot drinks to curl up with on a cold day while watching telly or reading a book. I'm starting off with a staple drink for the Christmas period – hot chocolate! I, along with many other people, love to drink a hot chocolate on the really cold days that Winter brings. This recipe is from GoodToKnow:
Serves: 2 Prep: 8 Mins Cooking: 2 Mins
You can't beat a steaming hot cup of creamy hot chocolate on a cold Winters day. This delicious, mildly spiced version has the option of an extra bit of oomph when you add some brandy or rum. What could be more delicious or warming when coming in from a cold Christmas walk or after spending hours on your feet Christmas shopping. Keep a can of squirty cream and a bar of good quality chocolate handy throughout the festive period and then you can rustle up this heartwarming classic as a moments notice. (This is the description from the actual recipe page).
Ingredients:
200ml Full Fat milk
4 Tbsp drinking chocolate powder
30g dark chocolate, finely grated
quarter teaspoon ground cinnamon
a pinch of grated nutmeg
2 Tbsp brandy or rum (optional)
canned squirty cream, silver balls and gingerbread biscuits to serve
Method:
place the milk in a saucepan and heat gently until almost boiling and scalding hot, Alternatively heat in a microwave on high for 2-3 mins
Meanwhile mix the drinking chocolate powder, grated chocolate, cinnamon and nutmeg and brandy or rum if you're using it in a heatproof jug until well-combined
As soon as the milk is about to boil pour it into the jug, whisking with a balloon whisk or stirring with a wooden spoon as you do
Immediately pour into cups and squirt a swirl of cream over the chocolate, scatter with a few silver balls to decorate and serve with gingerbread biscuits
Next up is a Hot Spiced Tea for the Holidays recipe, I love tea. If you're offering me tea then I'm almost always going to take you up on that offer. I found this recipe on AllRecipes.
Original recipe yields 6 servings
6 cups water
1 teaspoon whole cloves
1 (1 inch) piece cinnamon stick
6 tea bags
¾ cup orange juice
½ cup white sugar
¼ cup pineapple juice
2 tablespoons lemon juice
Directions
Instructions Checklist
Step 1Pour water into a pot; add cloves and cinnamon stick. Bring water to a boil; remove from heat. Add tea bags to water and set aside to steep until the tea is to your preferred strength, at least 5 minutes. Remove and discard cloves, cinnamon stick, and tea bags.
Step 2Stir orange juice, sugar, pineapple juice, and lemon juice together in a saucepan; bring to a boil. Cook and stir the juice mixture until the sugar dissolves completely. Pour juice mixture into the spiced tea; serve hot.
I Made It Print
Nutrition Facts
Per Serving: 87 calories; protein 0.3g; carbohydrates 22g; fat 0.1g; sodium 8.6mg. Full Nutrition
And Finally a Christmas Coffee recipe from Delish: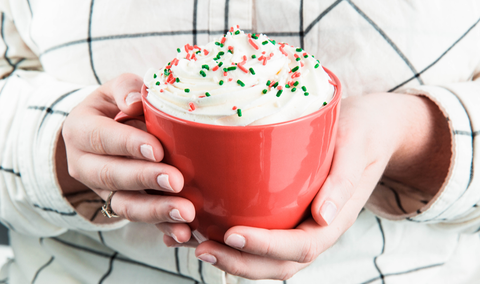 INGREDIENTS10 c.
water1 1/4 c.
ground coffee1 tbsp.
brown sugar1 tsp.
ground cinnamon1/4 tsp.
ground cloves1/4 tsp.
ground cardamom
Whipped topping, for serving
Sprinkles, for serving DIRECTIONS
Pour water into coffee maker. In a medium bowl mix together coffee grounds, sugar, and spices then pour into coffee filter. Brew coffee according to coffee maker directions.
Pour into coffee mugs and top with whipped topping and sprinkles to serve.
That is all my Christmas recipes to give to you today, I hope you enjoyed seeing them, if you try any of the recipes it would be great if you could show me some pictures in the comments!